The dynamic nature of the whole industry makes requirements shift often to the most popular and "next best thing" tools and programming languages.
What does a full-stack developer mean?
The term full-stack means developers who are comfortable working with both back-end and front-end technologies.
To be more specific, it means that the developer can work with databases, PHP, HTML, CSS, JavaScript and everything in between, also, venturing as far as converting Photoshop designs to front-end code.
A full-stack developer doesn't need to master all of the areas and technologies he needs to work it, because that just makes it nearly impossible, he just needs to be comfortable working with those technologies, and that's a lot too.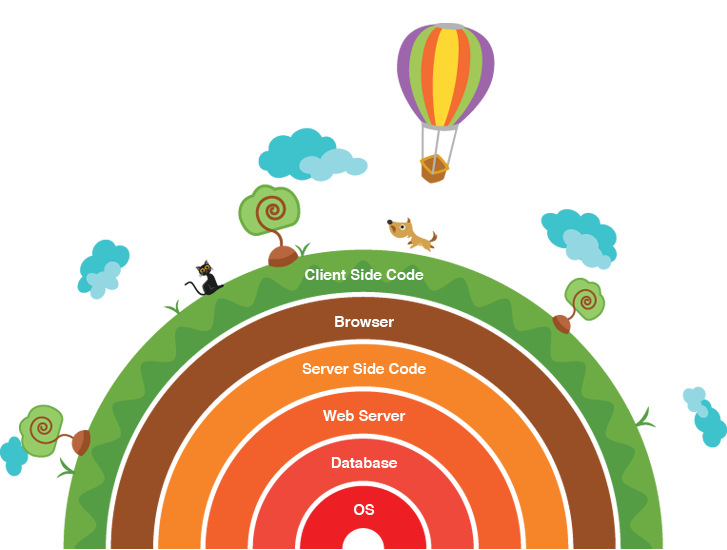 System administration:
Linux and basic shell scripting
Cloud computing: Amazon, Rackspace, etc.
Background processing: Gearman, Redis
Search: Elasticsearch, Sphinx, Solr
Caching: Varnish, Memcached, APC / OpCache
Monitoring: Nagios
Web development tools:
Version control: Git, Mercurial, SVN
Virtualization: VirtualBox, Vagrant, Docker
Back-end tech:
Web servers: Apache, Nginx
Programming language: PHP, NodeJS, Ruby
Database: MySQL, MongoDB, Cassandra, Redis, SQL / JSON in general
Apache and Nginx are the norm for web development. A full-stack developer should know how to set up these applications and serve the contents of his website.
PHP is what needs to be mastered on a high level, NodeJS, Ruby is nice to know as well.
In addition to web server and programming languages, database management is also a requirement for a full-stack developer which in itself is another beast.
Relational (such as MySQL, PostgreSQL) vs non-relational databases (like MongoDB, Redis or Cassandra) are differences the full-stack developer needs to know, along with knowing the syntax of XML / JSON.
Front-end tech:
HTML / HTML5: Semantic web
CSS / CSS3: LESS, SASS, Media Queries
JavaScript: jQuery, AngularJS, Knockout, etc.
Compatibility quirks across browsers
Responsive design
AJAX, JSON, XML, WebSocket
Design:
Converting website design into front-end code
UI
UX
In addition to front-end technologies, a full-stack developer also understands what is possible and what not to create with the constraints of HTML / CSS / Javascript and convert the design (Photoshop/Illustrator files) accordingly.
With many of the mentioned technologies a developer can get away with not knowing to code or use, such as Ruby or specific JavaScript libraries, but all these are interconnected in one way or another.
For example if you want to set up Vagrant you need to know Ruby's syntax, as simplified as it is or if you want to manipulate DOM elements, jQuery is a good to know technology.